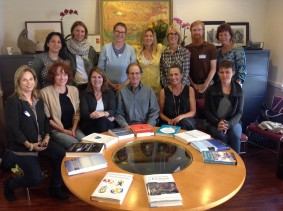 Mindsight Immersion Weekends with Dr. Dan Siegel
This May, we are happy to present our special Aware Immersion Weekend. 
In this exclusive event, participants will explore the science behind awareness, presence, and interpersonal neurobiology, while reinforcing fundamental ideas and pushing the boundaries of knowledge further to explore the nature of wisdom, kindness, and connection.
This weekend will solely focused on two of Dan's most recent, bestselling books – Aware: The Science and Practice of Presence and Mind: A Journey to the Heart of Being Human, as well as his Wheel of Awareness meditation practice.
This immersion weekend is limited to 20 students
Enjoy learning with Dan over a leisurely weekend
Have the time to explore the applications of the latest neuroscience to your professional and personal life
Explore the science behind mindsight and interpersonal neurobiology
Make the material your own and deepen your personal comprehension by interviewing Dan for 15 – 20 minutes on sections of these books that you find most useful, perplexing, or otherwise compelling
If you're interested, please download and review a copy of the Syllabus (click the button below). It provides a complete course description, schedule and previous students' comments about their immersion experiences.
Location
The Georgian Hotel
1415 Ocean Ave
Santa Monica, CA 90401
Weekend in Santa Monica: 14 CEs
"Great learning and lots of take-home ideas!"
Todd, Psychologist, Canada
"Energizing learning experience, very supportive and welcoming!"
Elaine, M.D., New York
"It is wonderful to be exposed to this breadth of knowledge, mindsight and integration."
Maureen, LMFT & MFC, California
"The immersion weekend is inspirational. Dan's way of exuding equanimity, kindness and respect to each person is phenomenal. The weekend is packed full of in-depth learning and joy."
Donna Ray, Feldenkrais Trainer, Cardiff, CA
"The Mindsight Immersion Weekend with Daniel J. Siegel provided a fertile soil for discovery. The weekend was grounded in Dr. Siegel's work exploring the science of mind and enriched by the collective experiences of my fellow students. I left feeling energized, inspired, and hopeful that by deepening our understanding and experience of what it means to be human, we can cultivate a new definition of well-being for our selves and the planet."
Jennifer Bloom, poet-singer-scholar, Austin, Texas
Immersion Weekend, 2014