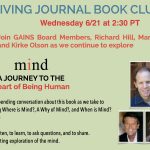 Dan Siegel's latest book, Mind – A Journey to the Heart of Being Human, invites us to explore our minds even more deeply.
Join us in a mind-bending conversation about this book as we take to task understanding Where is Mind?, A Why of Mind?, and When is Mind? (Chapters 6, 7, & 8)
GAINS board members Richard Hill, Kirke Olson, and Mary Meador will discuss the possibilities and probabilities of mental processes as they have been so eloquently presented by Dan Siegel. We will be open and curious about the concept of time, mindful awareness, integration, states of mind, presence, and the plane of possibility, among others. We would love to have your presence accompany us as we delve further into our journey to understand what it means to be human.
This webinar will be held on Wednesday 6/21 at 2:30 PT (note this is a different date and time than previously announced – apologies for any inconvenience). The webinar will be recorded and posted on the GAINS website, www.mindgains.org, for listening and re-listening by our members.
Please register for the webinar at the following link: