Living Journal Webinar – Bonnie Badenoch & Sharon Stanley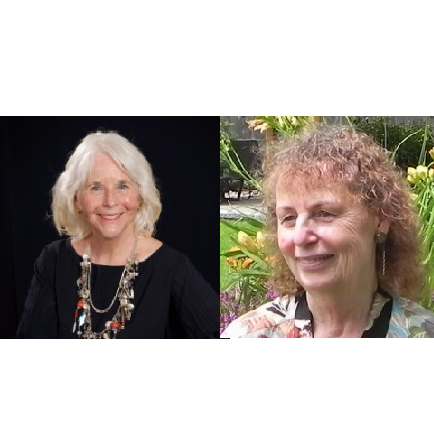 Exploring the Wisdom of Embodiment in Healing Trauma
Facilitated by Lynn Redenbach, RPN, MA, RCC – GAINS Education Co-Chair
November 17, 2:30 – 3:30 PST – RECORDING NOW AVAILABLE IN THE LIVING JOURNAL
As an adaptation to the conditions of our Western culture, many of us have been drawn far away from embodiment. In keeping with this, much of our clinical training and the healthcare cultures within which we work are dominated by left hemispheric ways of seeing and practicing. Yet, in order to truly foster our clients' transformative healing from the wounds of trauma, clinicians can cultivate their inborn capacity for deep embodiment. What does it mean to be deeply embodied? How can this support our work in creating relational safety, which is so necessary in work with people who have been traumatized and really in all our relationships? What supports and capacities are necessary for the clinician to enter into embodied presence?
Bonnie Badenoch, PhD and Sharon Stanley, PhD. will come together in conversation to explore the nuanced interplay between the intra-personal and interpersonal realms of coming to embodied presence. In addition to sharing insights gleaned from their vast experience, Bonnie and Sharon will speak about research and theorists from the field of Interpersonal Neurobiology who have inspired their reflections and practice.
Bonnie Badenoch, PhD, LMFT is a marriage and family
therapist, supervisor, teacher, and author who delights in
integrating the discoveries of relational neuroscience into the
art of therapy. She co-founded the nonprofit agency,
Nurturing the Heart with the Brain in Mind in Portland,
Oregon. She offers immersion training experiences dedicated
to supporting the ongoing mental health of fellow therapists
while helping them internalize the principles of interpersonal
neurobiology. Bonnie currently teaches at Portland State
University, and speaks internationally about applying IPNB
principles both personally and professionally. She is the
author of Being a Brain-Wise Therapist (2008) and The Brain-
Savvy Therapist's Workbook (2011).
Sharon Stanley, PhD has practiced as a psychotherapist for
over thirty years in Washington State and British Columbia
and served as an educator in graduate-level programs for
healing trauma for the past twenty years in Canada and the
United States. Sharon has developed curriculum based on
the principles of developmental neuroscience and congruent
practices of somatic ways of knowing. Her work, Somatic
Transformation, is based on an embodied relational model
drawn from developmental neuroscience and focuses on six
body-centered practices to effectively utilize the
intersubjective therapeutic relationship for the healing of
trauma. Her upcoming book: Relational and Body-Centered
Practices for Healing Trauma: Lifting the Burdens of the Past,
will be published by Routledge in February 2016, predicted
by Dr. Allan Schore to "leave an indelible impact on the field".
She offers a training program on Bainbridge Island, a short
ferry ride from Seattle, for practitioners interested in
Interpersonal Neurobiology, affect regulation and refined
skills in relational somatic practices.